Make the most of your post-secondary experience and find success.
Studies show that there is a positive relationship between students' academic performance and their involvement on campus. Plus, becoming involved with the campus community means you can meet new people in addition to strengthening your academic performance.
Not sure where to start? Check out some of our suggestions!
Peer tutoring
Classes can be challenging, but your peers can help. It's as simple as putting in a request online to get a tutor for any course you need help with and it's free!
Better yet, if you're interested in helping others as a campus job, you can also apply to be a tutor in your area of expertise!
Join a club or society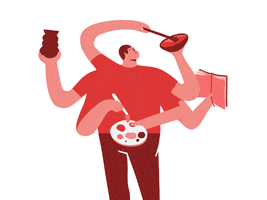 Are you looking to connect with like-minded students? Then join a club or society – IGNITE offers various clubs, from campus church to business expertise! And you can even start your own!
If a club isn't exactly what you're looking for you can also look into joining a society. Guelph-Humber has many program-specific societies, such as the pre-law society.
Check emails and calendars for upcoming events
Stay up to date with your email so you won't miss out on great opportunities for networking or fun social events! You can also check out Humber's calendar and follow @shareignite on Instagram to stay informed.
On-campus jobs
Juggling academics and work is challenging; luckily, many work-study positions can fit your schedule.
Check out Humber's CareerConnect job portal for opportunities! It can help with your academics to work at a place you're passionate about, even if it's just a few hours a week.
Peer wellness
A considerable part of academic success also involves being in the right headspace. And we know focusing on class when you are struggling mentally can be challenging.
Humber offers Peer Wellness Coaching through the Student Wellness and Accessibility Centre to receive 1-1 support and group programming.
Besides, you owe it to yourself and your future career goals – don't miss out on this opportunity! Become more involved with campus life today.
---
Feel anxious about attending class? Here are 8 tips for dealing with pre-class jitters
Follow IGNITE on Facebook, Instagram, and Twitter for all things student life.