The evolution of the Internet has made our lives easier. It has become so easy to pay our phone bills, order food or shop online. Not to mention Instagram and TikToks, which provide us endless entertainment. Although the Internet has many benefits, its disadvantages – like scams – can't be ignored.
Recently, there has been an increase in the number of online scams. And it's becoming more challenging to identify these fraudulent activities.
To help you avoid the emotional and financial stress, we're discussing common scams you need to know.
Job scams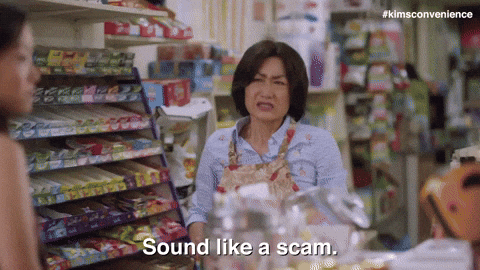 via Giphy
Let's imagine, you're searching for jobs online. And eventually, you find the perfect opportunity, but something looks sketchy. You're expected to pay a fee to complete your application. Sounds like a scam right?
Well, you're right! Since the pandemic, job scams have become increasingly popular. They are fraudulent job offers, with the aim of deceiving job seekers into providing their personal information. Because of this, it's essential that you're able to distinguish between a scam and a legitimate opportunity.
Common forms of job job scams:
Fake job listings – involves paying a fee to complete your application.
Email offers – receiving emails from someone pretending to be a "recruiter," who asks for your personal information.
Interviews via an online messaging service – you're selected for an interview for a job, to which you never applied. Interviews are conducted via a specific messaging service, which requires personal information for setup.
Unfortunately, job scams are targeting Humber College and University of Guelph-Humber students too! In recent months, students have received fraudulent job offers via Outlook. And what's even more surprising is that they are shared from hacked or fake Humber-affiliated accounts. These positions are usually remote with a weekly salary of $650. Sounds too good to be true, right? That's because it is!
Social media scams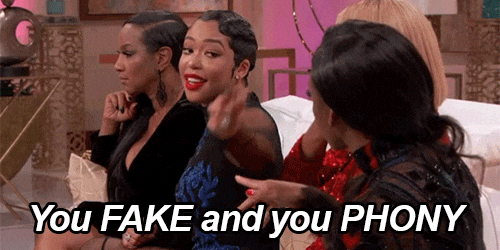 Most times, we're scrolling through TikTok or Instagram to see what's currently trending. Well, one thing that trending for sure is social media scams. Scammers are using social media to target people and gain access to their personal information. Whenever you're using Instagram, you're likely exposed to many scams like:
Phishing scams – involves receiving random direct messages (DMs), prompting you to take action before your account gets suspended. Scammers pose as Instagram customer service representatives to convince you that your account is in danger.
Sponsorship scams – these scams are usually from accounts posing as legitimate brands. As such, you're given opportunities to sign up as a brand ambassador or receive payment in exchange for advertisements.
Lottery and giveaway scams – involve DMs congratulating you for winning a prize. Scams like these are created to steal your personal information or direct you to unsafe websites.
Crypto scams – Invest in crypto today to become a millionaire by tomorrow! Sounds familiar right? With many people investing in cryptocurrency, scammers are taking advantage of its popularity. Crypto scams involve DMs from scammers, claiming they can make you rich and requesting your personal information.
E-transfer scams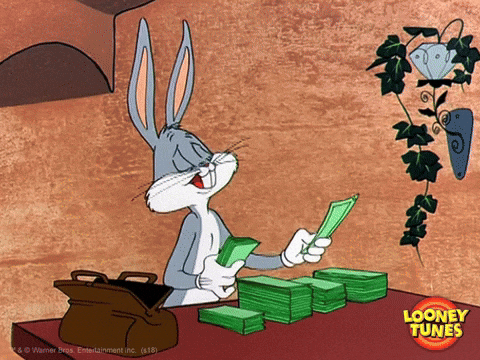 E-transfer is one of the fastest ways to send or receive money. But nowadays scammers are targeting people via e-transfer too.
If you purchase a product from Kijiji or Facebook Marketplace, you're usually asked to pay via e-transfer. Once you make an attempt to send the money, sometimes the seller's bank account is frozen or fraudulent. And if you're selling a product, the buyer can cancel the e-transfer, depending on the financial institution.
Another form of scam relating to e-transfers involves receiving an SMS message, stating that money has been deposited in someone's account, although you didn't make a transfer. My suggestion is to delete the message immediately and contact your bank.
How to avoid online scams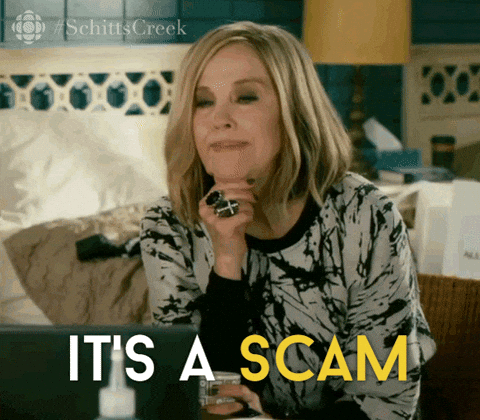 Now that you're aware of the different types of online scams, here's how you can avoid them. Always trust your instincts. If a job offer looks suspicious, you should probably avoid it. Whenever you see a red flag, don't ignore it! Likewise, you should never click on suspicious links. It's one of the easiest ways for scammers to lead you to malicious websites or gain access to your personal information. Always avoid clicking on links, no matter what!
It's always best practice to use strong passwords and two-factor authentication when it's available. That way, hackers are unable to gain access to your social media accounts. And if you receive a DM regarding a brand ambassador opportunity, always check for the blue verification check mark. If the business/influencer doesn't have one, it's likely a scam account.
And most importantly, do your research. Never apply for a job unless you have confirmed that the company is legitimate. Although identifying online scams can be tricky, by following our advice, you can avoid them.
CALLING ALL RAPTORS FANS!
On Wednesday, Oct. 18, we will be hosting a contest on our TikTok account @shareignite. Humber and UofGH students will have the chance to win tickets to the upcoming Raptors VS Vikings game on Wednesday, Oct. 25 at 7:30 p.m.! This is a game you don't wanna miss, so make sure you're following our official accounts.
Now that you're aware of the many types of online scams, it's important to remember there are often fake profiles impersonating IGNITE and our social media contests. Please note our social media handle is @shareIGNITE on TikTok, Instagram and X (formerly known as twitter). Only @shareIGNITE will contact you about our contests, and any other DM related to IGNITE or our contests is – you guessed it – a scam.
---
Here's why you should be aware of your digital footprint.
Follow IGNITE on Instagram, Facebook and TikTok for all things student life.