BRB, listening to Daniel Caesar on repeat.
There are a few things that are getting me through this pandemic–Netflix, Facetime, newly-found hobbies, and my carefully curated Daniel Caesar playlist. To make days a little brighter, IGNITE has answered our prayers and has blessed us with the best virtual Frosh we could have asked for.
Just because we're spending the Fall semester online doesn't mean we need to skip out on the fun events IGNITE usually has to offer. This year, we're doing things a little differently by bringing you an exclusive Daniel Caesar concert on Tuesday, Sept. 8.
Hailing from Oshawa, Ontario, Daniel Caesar is a GRAMMY Award-winning R&B singer and songwriter whose soulful voice meshed with gospel eloquence has stolen the hearts (and playlists) of thousands.
Now, if you need a refresher on the masterful lyricism that Daniel Caesar is known for, allow me to help. I've compiled a list of the top Daniel Caesar tracks that are sure to get you in the feels AND get you appreciating the deeper meaning behind his words.
Check out the 5 tracks you'll want to include in your next jam sesh:
1. "Best Part" Ft. H.E.R
This song is the coffee that I need in the morning, the Tylenol I take when my head hurts, and dare I say–the best part of my day when I listen to it. Reaching over half a billion streams, "Best Part" is one of the many hit singles to come out of Caesar's breakout album, Freudian. Daniel Caesar and H.E.R are truly a match made in heaven and proved this by meshing their soft vocals in this, soul-filled, butterfly-inducing song.
But, I'm not the only one who loves it. Barack Obama himself included "Best Part" in his 2019 Summer Playlist. Oh, and did I mention that it also won Best Collaboration at the 2018 Soul Train Music Awards and a 2018 GRAMMY for Best R&B Performance?
2. "ARE YOU OK?"
Now, this, THIS is the type of song you bawl your eyes out to at 1 o'clock in the morning.
Part of his second studio album, CASE STUDY 01, "ARE YOU OK?" is an emotional ballad that follows Caesar as he sings to Emily, his bride to be. Though we don't know who Emily is (she may be someone from his private life), we can feel the pain and love he wanted to emote through his passionate lyrics.
Using powerful imagery, "ARE YOU OK?" showcases Caesar's talented lyricism and vocals. And, to answer his question, no I am NOT OK after listening to this.
3. "LOVE AGAIN" Ft. Brandy
Back again with the masterful collaborations, Caesar and R&B legend Brandy created this R&B hit that brings back all the '90s feels.
This conversational song goes back and forth between Caesar and Brandy and showcases the artists and their perspectives on heartbreaks. Despite the rocky relationship being alluded to, there is still a glimmer of hope in the lyrics "Hold on 'til the end / Hold on 'til you can't extend" and the positive ending, "I promise that we'll find love again".
Drawing on personal heartbreaks, this song depicts the realities of the up and downs that come with falling in love–the good, the bad, and the ugly.
4. Blessed
My ears feel blessed after listening to this song.
"Blessed" perfectly showcases the modern-day depiction of love and relationships. Though Caesar consistently acknowledges his struggles, he reiterates how blessed he feels to be with his significant other. The feelings portrayed in the soulful song are raw, real problems that many people go through.
Caesar brings comfort to his S.O. in the bridge by singing, "and I'm coming home to you." Regardless of their toxic reliance on one another, he continuously professes how blessed he is to be with her and that he'd always come back home to them–whether that is their physical house or referring to his S.O as "home."
5. "CYANIDE"
I had to include "CYANIDE" on this list because the sound differs from the Daniel Caesar songs we're used to by paying homage to his Jamaican roots.
This reggae-influenced track is the second song on CASE STUDY 01. Cyanide, a highly toxic chemical compound, is likely an analogy to the toxic relationship alluded to in his lyrics. Toxic relationships are a common theme throughout CASE STUDY 01, bringing light to the heartbreak, pain, and struggles that go along with falling in and out of love. Caesar clearly, and expertly, draws from his own personal experiences to create music that appeals to all.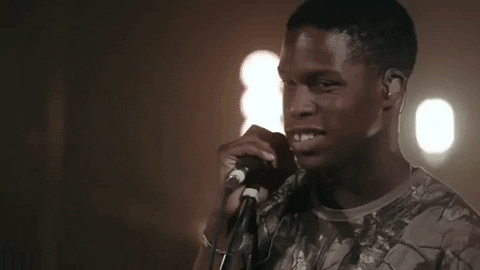 What are your go-to Daniel Caesar tracks? Let us know Facebook, Instagram, or Twitter, and get yourself ready for the performance of the school year.
---
Don't wait, register today to the virtual event of the semester.
Follow IGNITE on Facebook, Instagram, and Twitter for all things student life.