Are you getting ready for an exciting adventure of a lifetime by studying abroad for a semester? Whether you're heading to a new country to study a foreign language, immerse yourself in a new culture, or gain valuable academic experience, packing for your semester abroad is an essential task that requires careful planning and organization.
With so many new experiences and adventures ahead of you, the last thing you want is to feel weighed down by excess luggage or find yourself missing important items that you need. That's why we've put together a helpful guide to help you pack for your semester abroad with ease and confidence.
Follow these tips and tricks, and you'll be well on your way to a successful and enjoyable trip.
Make a list
Start by making a list of everything you think you'll need for your trip. Include essentials like clothing, toiletries, and electronics, as well as any special items that you can't live without.
Be sure to also check with your program or school for any specific guidelines or recommendations.
Pack light
When it comes to packing, less is often more. Remember that you'll have to carry everything with you, so try to pack only what you'll actually use. Pack clothes that can be mixed and matched, and consider packing lightweight items that can be layered for different weather conditions.
Pack versatile clothing
When it comes to packing clothes, it's important to bring items that can be worn in different settings. Pack clothes that are comfortable and versatile, such as jeans, t-shirts, and lightweight jackets. This way, you can easily mix and match your outfits and be prepared for any occasion.
Pack a travel-sized toiletry kit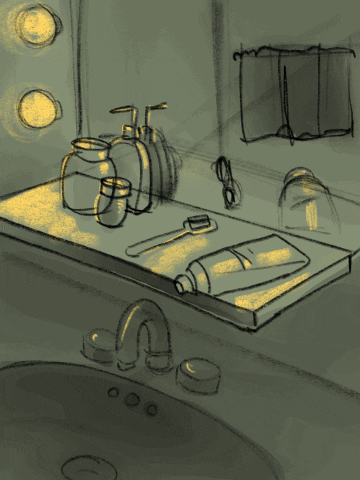 Toiletries can take up a lot of space in your luggage, so it's a good idea to pack a travel-sized toiletry kit. Instead of bringing full-sized bottles of shampoo, conditioner, and other toiletries, opt for travel-sized versions. This will save space in your luggage and make it easier to carry your toiletries with you on the go.
Pro tip: Travel-sized version of toiletries can often be overpriced. So instead, buy the full sized version and some travel size bottles from the dollar store to save a few dollars.
Bring a few familiar items
Going abroad can be exciting, but it can also be overwhelming. To help make the transition easier, consider packing a few familiar items from home. These could be anything from a favourite book or a family photo to a small piece of decor. These items can provide a sense of comfort and familiarity during your time abroad and maybe help you from feeling to homesick.
Packing for a semester abroad can seem like a daunting task, but it doesn't have to be. By following these five ideas, you can ensure that you have everything you need without overpacking.
We're sure that with these tips, you'll be ready to embark on an exciting adventure abroad.
---

Social media can influence you to buy the stuff you don't need—Try "de-influencing!"
Follow IGNITE on Facebook, Instagram and Twitter for all things student life.