With the holiday season just around the corner, it's time to get outside and enjoy the seasonal festivities!
From indoors to outdoors, there are so many fun events to get you in the holiday mood.
So, here are some festive events to attend in Toronto this holiday season. But first, make sure you have a good winter coat!
Great Hall- Last Chance Holiday Market
(Dec. 18, 11 a.m.-5 p.m.)
Need to find some last-minute gifts?! The Great Hall has them! With over 50 Toronto artisans located in the heart of Queen West, you're bound to find the perfect handmade gift for your loved one.
They have everything from leatherwork, stained glass, jewelry, and candles! The best part is that it's free! Plus, be the first 30 to arrive and receive a VIP swag bag!
Skating at Nathan Phillips Square
(Nov. 27-Mar. 20)
Strap on your skates and bring out the hot chocolate!
Skating at Nathan Philips Square is a great opportunity to look at the festive lights while exercising. And if you don't know have your own gear, don't worry because you can rent a helmet and skates on-site!
Holiday Fair
(Dec. 2-23)
Also, while you're at Nathan Philips Square, you should check out the Holiday Fair!
In association with the City of Toronto's Cavalcade of Lights, the square looks like a magical wonderland. Take pictures with Santa, play games, shop at various vendors or try out some seasonal beverages at the Polar Point Bar.
Sweet Treats & Holiday Eats Shoppers Market
(Dec. 18, 4 p.m.-8 p.m.)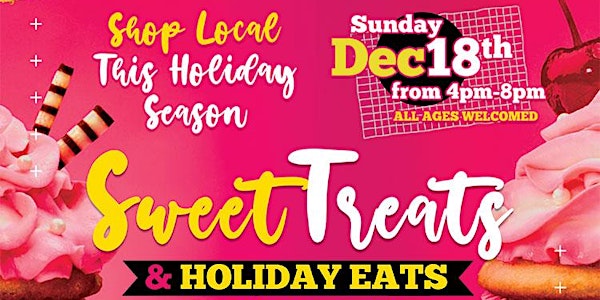 Got a sweet tooth?! The Sweet Treats & Holiday Eats Shoppers Market will have you booking an appointment at the dentist…but it will be worth it.
This free event features a variety of local food vendors with all types of specialty treats. Better yet, there's prizes/giveaways and a live DJ!
St. Lawrence Market
(Year-round)
St. Lawrence Market is open year-round, but always does something special for the holiday season! Make sure to stop by and check out the Market Event Schedule to find out what's happening.
Christmas Lights of The Kingsway
(Dec. 14, 7 p.m.- 9 p.m.)
Take a tour of the lights in one of Toronto's iconic districts! The tour starts at the southwest corner of Jane Street and Bloor Street West just across from Jane subway station. We guarantee the display of lights will amaze you.
The winter season awaits you! It's time to take a break from your studies and try something new. And if you're not interested in leaving your home, may we suggest putting on your favourite holiday film and baking some cookies to get you in the holiday mood!
---
Need some last-minute gifts? Check out these student-run small businesses
Follow IGNITE on Facebook, Instagram and Twitter for all things student life.