Picture perfect.
They say a picture is worth a thousand words. Through getting the perfect Snapchat selfie or stuntin' a fire fit on Instagram, we express ourselves as people. Whether or not you're a selfie fiend or dabble in the occasional Insta pic, we must admit that getting that picture-perfect shot feels oh-so-good.
Well, lucky for you, IGNITE understands the struggles that come with taking the perfect picture—yeah, I'm talking about those infamous self-timer pictures that you always seem to mess up last-second. To give you a blast from the past and lend a helping hand, IGNITE will be hosting photo booth stations at all campuses to help IGNITE Board of Director candidates take the ultimate headshots—but that's not all.
Aside from reliving your photo booth memories from elementary school, you'll get the chance to "take a picture" living it up in your favourite city! In case you missed it – we're giving away the ultimate night out prize pack in our See The 6 Contest for you and a friend to take a break from studying and treat yourselves!
Our ultimate prize pack includes a $50 Uber gift card, a $200 360 Restaurant gift card, and a $100 Rec Room gift card, so all you have to worry about is what to order! Oh, and did we mention the runner-up prizes? We're also giving away 2 $50 Ultimate Dining cards because we all know the best prize is food.
All you have to do is follow us on Instagram (but I mean, you should be already), snap a photo at our IGNITE Photo Booths on campus, and tag us in your shot on Instagram! Make sure your profile is public so we can record your entry, and you're good to go!
The IGNITE Photo Booth will be available from 10 a.m. – 4 p.m. on the following days:
NORTH/GUELPH-HUMBER: Monday, Feb. 10 – Friday, Feb. 14 | IGNITE Student Centre
LAKESHORE: Monday, Feb. 10 – Friday, Feb. 14 | K-Building
If you need some photoshoot inspiration to ensure you get the perfect shot with the best angles, we've compiled a list of the most ICONIC photo booth moments in pop culture history to spark some inspiration.
Grab your friends and take notes from these photo booth icons:
1. Elvis Presley
Photo booths have been around for ages. Reports of the first photo booth actually came as early as 1925 in New York. So it comes to no surprise that The King of Rock and Roll, Elvis Presley, indulged in a solid photo booth moment in the 1950s. If this doesn't trigger nostalgia for you and instantly get you feeling all the feels, I don't know what will. Whether you want to rock Elvis' iconic swoosh hairstyle or prefer to keep it trendy, these old-fashioned shots are surely enough to spark inspiration for your shoot.
2. Mindy Kaling and B.J. Novak
Are you kidding me? This gave me LIFE. Vanity Fair definitely blessed us with this one. Fans of The Office can attest that Ryan and Kelly's relationship on the show was far from healthy, but I know we all low-key wanted them to end up together. Well lucky for us, their relationship doesn't stop on the small screen. Mindy and B.J. are actually really close friends in real life! To top this fairytale off, B.J is godfather to Mindy's daughter—my heart is melting.
3. Barack and Michelle Obama
The OG of couple goals. Aside from being inspirational politicians and activists in their free time, one thing Barack and Michelle teach us is what a strong, happy marriage should look like. This photo booth moment will forever go down as one of the cutest in history. I mean, come on, look at the third picture! Barack looks adorable with his peace sign pose and the fourth picture is just too much cuteness to handle. #CoupleGoals, am I right?
4. Olivia Munn and Aaron Rodgers
How iconic is this? Now, the gala scene may seem glamorous and prestigious, but the truth is nobody can pass up a good burger. Olivia paired her gorgeous award show ensemble with a much-needed In-n-Out burger. Everyone knows that when a gal is hungry, she's gotta eat wherever and whenever—I know from personal experience. Although Olivia and Aaron broke up in 2017, these pictures are permanent reminders of their goofy relationship. Seriously goals. Now, BRB while I go grab a burger myself.
5. Ariana Grande
Ariana definitely wins at meet-and-greets. For her Honeymoon tour in 2015, Ariana made her meet-and-greet experience a little more interesting by adding a photo booth opportunity for fans. Seriously, what better way is there to get an intimate and unique photo with your idol than a photo booth? Plus, these photo strips turned out adorable—what's not to like about this woman?!
6.The Kardashians
Oh, the Kardashians—the family we love to talk about. Though their family has had their fair share of controversies, we must admit they have some great photo booth moments. From birthday parties to Kylie and Kendall's grad celebration, there are a bounty of photo moments to gain inspiration from. I mean, with the millions of Instagram likes they rank in, they must be doing something right. So, unleash your inner Instagram baddie and make your IGNITE photos as FIRE as possible.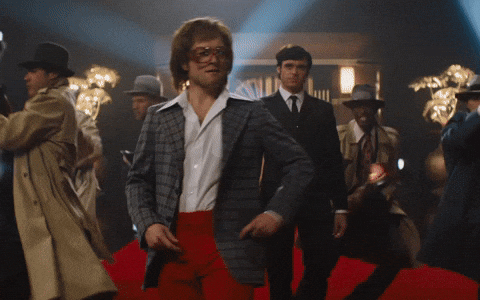 So, now's your chance to strike the perfect pose. Polish up your best fits and make sure you're having a good hair day because photo booth stations are coming to campus really soon.
---
Follow IGNITE on Facebook, Instagram, and Twitter for all things student life.