Take the pain out of studying by following these useful tips.
The first month of school has come and gone, and it probably didn't seem so bad. Now it's October and all your assignments, projects, and midterms hit you at once. If you're freaking out about midterms and don't know how to study, fear not, because IGNITE's got your back!
Here are four study tips to get you through the midterm madness:
1. Pay attention in class and LISTEN to your professor
We know how easy it is get distracted in class. Checking your phone sounds way more tempting than listening to the lecture, but I can't stress this enough: pay attention in class! Profs use class time to go in depth about course materials, answer any questions you might have, and a lot of the time, they'll actually tell you what you need to focus on for your exams. So being in class and paying attention (as hard as it may be) will help you in the long run.

2. Schedule time to study
If you try cramming the night before, you're definitely not going to learn effectively. Since most midterms take place around the same time, plan out when you're going to study for each class at least a week or two in advance. Use your agenda or calendar and set reminders for yourself, that way, you'll feel prepared by having a basic strategy for tackling studying.

3. Don't spend your time re-reading EVERY chapter/online reading
I'm not going to lie, in first year I was that student that tried to read EVERYTHING. I was too scared that I would miss out on a detail from the reading that would end up on the exam. But in reality, reading everything is 1) too time consuming and 2) not the best way to learn. Talk to your profs to see if they can give you some suggestions on what to focus on. Also, check out lecture slides because they usually focus on the most important aspects of the lesson.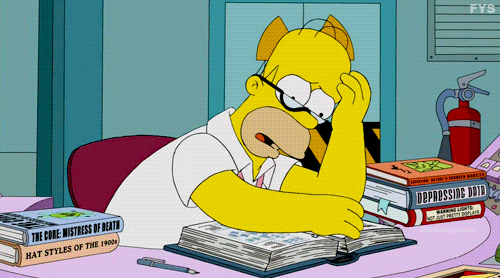 4. Spend some "me time", or use a reward system
Don't spend hours studying, take breaks and give yourself some well deserved 'me-time'. We feel guilty giving into the temptations of social media, Netflix and hanging out with friends. But studies show that taking breaks every few hours boosts your productivity. If you plan your breaks with the intention of going back to studying after, it'll relieve you of that guilt.
Here are some things you can do while taking a break from studying:
Meditation: use the Headspace app, it has quick 10 minute guided meditations that'll help you relax and ease your exam worries.
Draw: even if you aren't good at drawing, just doodling can be a nice stress-reliever. Instead of reading and taking notes, use your more creative side.
Read: find a comfy spot and unwind with a good book and a hot cup of tea.
Get moving: step outside for a bit, take a walk around your neighbourhood. A change of scenery can be good for your memory and stress levels.

---
We asked Humber and Guelph-Humber students for some tips on how they study. Here's what they had to say:
Hunter – Design Foundation, North Campus
"Don't cram. Make sure you take good notes so you have something to study off of. Go a few hours of studying then take an hour off. I like to go out and play soccer. Just do anything that you enjoy to relieve stress."
Tyla – Early Childhood Studies, Guelph-Humber
"I put questions and answers on cue cards and shuffle through them in the days leading up to the exam to make sure I know the information."
Mohamed – Media Foundations, North Campus
"Because I am a visual learner, I find that I absorb more information visually so I like I try to find YouTube videos on the subject."
Ashiq – Business, Guelph-Humber
"I put my phone on silent and try to forget about it so I don't distract myself."
Carly – Sport Management, North Campus
"The best way to cope with stress is to plan and give everything the appropriate amount of time. Always write your own notes in class and compare with the prof's slides."
---
With enough planning and dedication, you can avoid getting overwhelmed and procrastinating by following these useful study tips.
If you need more guidance, our low stress study guide has more tips to keep you on track.
Good luck!