2019 was my first Toronto Pride.
I'd celebrated Pride Month before, but always on a much smaller scale – maybe I'd get together with some queer friends to watch Paris is Burning or attend my hometown's local parade. And, while I'd grown fond of my quaint observances, moving to the big city had me starry-eyed and excited to see what pride looked like on a mass scale. So, in anticipation of the big day, I asked my Toronto-born-and-raised friend what to expect.
"Oh, it's basically one big party," he told me. And he was right.
2019 was my first Toronto Pride and it was a party filled with people. A celebration centred around community.
But, of course, 2019 was also my last Toronto Pride.
When the COVID-19 pandemic caused virtually all gatherings post-March 2020 to take place virtually, pride was no exception. Organizations like Pride Toronto found ways to reformat their festivities for a digital landscape with only a few months' lead time – and they did a great job. I attended online clubs and exhibits, soaking in what I could, but was too overwhelmed by the abruptness of this new way of life to really reflect on the events.
Now, with a year of pandemic life under our belts and our second virtual Pride Month around the corner, queer people like me must reckon with existential questions about what pride is and what it's for.
Like, what does Pride mean in isolation from traditional celebration? How can we truly celebrate our community without our community present? What is Pride without the party?
To answer that, we've got to go back to the beginning.
Roots in resistance
Pride began as a protest.
The beginning of the movement is often attributed to the Stonewall riots in New York City. And, while those are credited with shedding new light on queer discrimination and ushering in a more intense wave of political activism, Canada's pride movement has its own history.
On August 28, 1971, around 100 queer people and allies met at Parliament Hill in Ottawa to conduct the We Demand march: a protest against institutional discrimination towards gay, lesbian and bisexual individuals in Canada. At the march, the group presented the federal government with a document outlining 10 demands for changes to homophobic policies. It's recognized as the first gay rights protest in Canada.
The gay rights movement achieved scattered victories throughout the 1970s. Toronto, Ottawa and Windsor banned denial of city employment on the basis of sexual orientation. Quebec banned any type of discrimination based on sexual orientation. And the Immigration Act was passed, ending the express exclusion of gay immigrants and visitors. But, for the most part, queer people in Canada demanding change were viewed as a small minority asking for "special" treatment.
That changed when the violence became too overt to ignore.
Raids and riots
In Montreal in 1977, in Edmonton in 1981 and, most notoriously, in Toronto in 1981, police raided bathhouses and public bathrooms occupied mostly by queer people. They wrongfully arrested patrons en masse, verbally and physically assaulting them along the way. But, the raids themselves secured homophobic discrimination a much more prominent position in the public sphere.
Following the Toronto raids, riots were held by queer communities in Toronto – and on a much larger scale than the We Demand rally from the previous decade.
Though these uprisings did not pave a straightforward path to equality, as a result of the bathhouse raids, homophobic discrimination was re-emphasized, leading to mass mobilization and, eventually, the fulfillment of all 10 demands outlined in the We Demand document.
Righting rejection
Trans people have been, are, and always will be an indispensable part of the queer rights movement. They have often been the leaders of pivotal protests and demonstrations. Yet, they have more often been denied the rights and freedoms they fought for.
The We Demand protest was the first gay rights protest in Canada. It was not, at least not overtly, an LGBTQIA+ protest; its document's demands didn't mention trans people.
June 1981 held Toronto's first Lesbian and Gay Pride Day. The city's first trans march didn't happen until 2009.
The Canadian Human Rights Act made it illegal to discriminate based on sexual orientation in 1996. It was still legal to discriminate based on gender identity and expression until 2017.
Homosexuality was declassified as a mental illness in 1990. Being trans wasn't until 2019.
Right now, it's legal to subject both gay and trans people to conversion therapy in all provinces except Ontario, Manitoba, Yukon, Quebec, Nova Scotia and Prince Edward Island. A bill that would ban conversion therapy across the country is currently pending.
We still have a long way to go.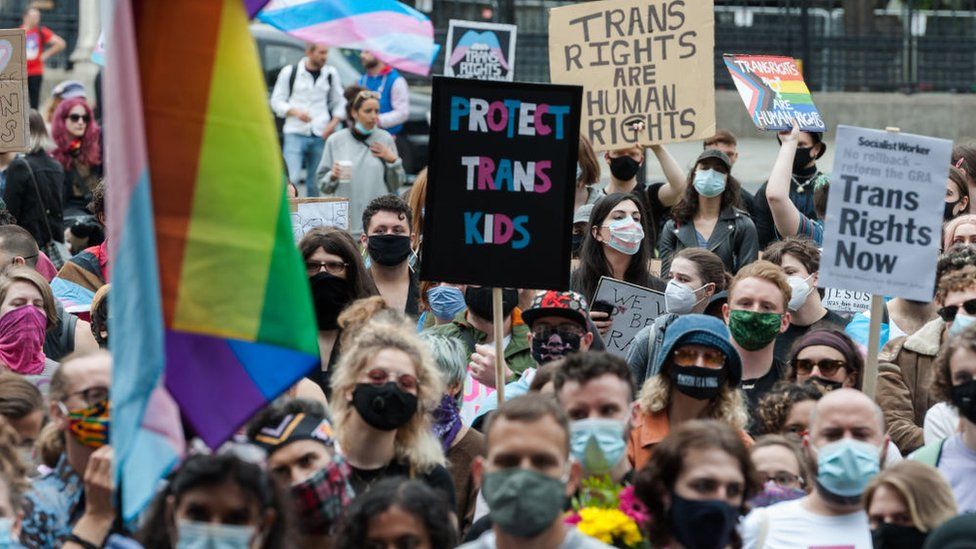 Living your Pride
So, what is Pride without the party? (Oh yeah, that's what this article is about!)
It's different, that's for sure. Partying it up and celebrating queerness has always been part of the movement; amid the rallies and marches, there were picnics, art and book clubs. It's not bad to revel in queerness through parties during Pride – in fact, it's necessary. But, as the COVID-19 pandemic has put in-person parties on hold, pride becomes what it originally was: embodied resistance.
You don't have to tear up a dance floor or stand front-row at a parade to show your pride. You can live it.
By following public health measures regarding COVID-19, you're protecting the queer people who have been most affected by the pandemic: elder queer people. Low-income queer people. Racialized queer people. Disabled queer people. That's living your Pride.
By reading up on queer history and enjoying the strides this movement has already made, you're honouring those who came before you. That's living your Pride.
By basking in queer art and the queer people who make it, you're making space for the stories those in power have long tried to erase. That's living your Pride.
View this post on Instagram
IGNITE wants to help you live your pride this year.
So, we're bringing you the chance to meet Margaret Cho and Bretman Rock, two legendary queer artists, on Thursday, June 24 at our first ever IGNITE Real Talks for Pride Month!
Margaret Cho is a legendary comedian with over 30 years of experience in entertainment and credits spanning TV, film and the stage. You might know her from her Grammy-nominated comedy album Revolution or as Auntie Ling in Netflix's first ever animated film Over the Moon (2020).
View this post on Instagram
Bretman Rock is one of YouTube's biggest beauty influencers. He's been teaching us how to beat, blend and bake since 2015 – and making us laugh along the way. And, he recently gave us an even deeper look into his life with his season of MTV's Following (who knew horseback riding could help heal a breakup?)
Secure your spot at IGNITE Real Talks for free by heading to Eventbrite and get ready for a COVID-safe Pride you'll never forget.
---
Live your pride by learning about these game-changing queer activists.
Follow IGNITE on Facebook, Instagram and Twitter for all things student life.