Lakeshore is taking you to flavour town.
Eating on campus can be quick and convenient, but it can also be boring and expensive. It recently dawned on me that I've been lining up for the same cafeteria pizza every day and it kind of got me down. But as much as I'm tired of the same old routine, there's comfort in familiarity; in knowing what to expect. It can be scary to try something new.
For me, this is especially true when it comes to food. Sure I want to eat something tasty for lunch, but how the heck am I supposed to know where to get the tasty stuff? This is Toronto, the land of a million restaurants! It became clear that I needed some advice. I had to get the inside scoop on some outside eats.
So I set out in search of Lakeshore's fearless foodies and asked them to point me in the right direction. Here's a taste of their favourite places to eat.
Snack Shack | 3260 Lake Shore Blvd W

Brandon Degannes | Business Management & Financial Services | @trinity98
"Snack Shack is one of those places where everything on their menu tastes great. You really can't go wrong. That said, my favourite thing to order is the chicken bahn mi sandwich. It's light and delicious, with a great mix of textures. It's surprisingly pretty filling too. But if you're really hungry, go for their chicken tenders with poutine. It's the perfect combo and it really hits the spot."
Trini Gardens | 3266 Lake Shore Blvd W

Lin | Public Relations
"This place has a mix of West Indian, Chinese, and Canadian food. It's all delicious! The portions are big too. Not to mention the average meal is $10, so it's affordable on a student budget. My favourite thing to order is the special fried rice with chicken on top."
Egglicious | 430 Kipling Ave

Luke Thomas | Business Management & Financial Services | @_lukethomas
"My friend and I were just at this all day breakfast spot earlier today. I love their waffles, eggs, and bacon, so I ordered that. My friend wanted lunch food though, so he went with the fish and chips. Everything tasted really good and the portions were generous. We only paid about $12 each and I'm still full."
Super Burger | 3327 Lake Shore Blvd W

Julianna Silva | Community & Justice Services | @jaaysilva
"The burgers at this corner spot are so good. They're juicy, they taste homemade, and I love that they only use fresh ingredients. You can really tell if you order tomatoes on your burger 'cause they're not all slippery and soggy. My go-to order is the bacon cheeseburger; it always satisfies. Also, big shout out to their poutine! It's so damn tasty!"
Thrive Organic | 3473 Lake Shore Blvd W

Jemma Adamo | Public Relations | @jaydams
"This is a cool place with healthy vegetarian food. As a bonus, a lot of the menu items can be made vegan and/or gluten-free. I just went there with my friend and we were really impressed. I had the BBQ caesar wrap with vegan dressing. It tasted really good and I actually forgot I was eating tofu. The wrap cost $13, which was a fair price."
Just Japan | 3226 Lake Shore Blvd W

Devin Budhu | Community & Justice Services | @_devjams
"Just Japan is a great little sushi spot directly across from the student residence. My friends and I like to go for their lunch special: 16 pieces of sushi for roughly $11. It's a really good deal! Best tasting thing on their menu is the dynamite roll, hands down."
Here I am eating my last cafeteria slice ever: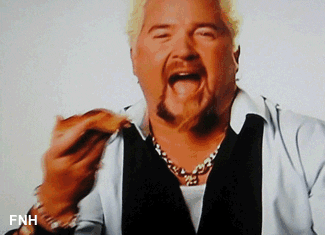 ---
Feeling a little under the weather lately? Check out 7 natural remedies for cold and flu season.
Follow IGNITE on Facebook, Instagram, Twitter, and Snapchat to see what's new.