I can show you the world.
Shining, shimmering, and splendid indeed. While self-isolation has definitely ruined our vacay plans for the foreseeable future, that doesn't mean we can't continue to explore from the comfort of our homes. After all, who has money to travel anyways?
Now, if you're unsure where to start, we've got you covered. Allow me to be your virtual tour guide to some of the coolest attractions around the world.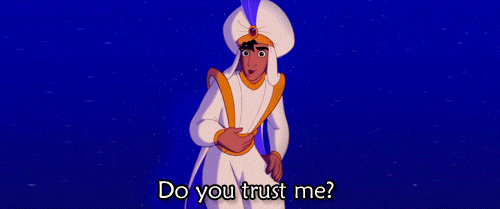 Check out all the places you need to visit while self-isolating:
Just because you can't leave the house doesn't mean you have to give up on entertainment. For a limited time, you can actually watch Broadway shows online for free!
With BroadwayHD, you'll receive a free 7-day trial where you can watch shows ranging from Kinky Boots to 42nd Street. After your trial is over, the monthly subscription is only $8.99.
Live out your Broadway dreams with hits at your fingertips.
Ripley's is famously known for the amazing aquatic animals on display, but since the aquarium is closed due to COVID-19 we won't be able to indulge in all its glory–or can we? Ripley's has set up a live cam straight from the shark tank so you can view the majestic creatures all day long. If you've been longing to swim with sharks one day, take this as your trial run.
All you adventure-seekers are sure gonna love this one.
Paris is my dream vacation spot. The Parisian lifestyle, the croissants, the amazing art and architecture–what's not to like?
But unfortunately, on a student budget, there's no way I'm getting there any time soon. Luckily, we can have a little piece of Paris without actually touching a plane. The Musee du Louvre (AKA the home of the Mona Lisa) offers a variety of online exhibits you can tour through and enjoy.
Now, if you don't mind, little me is off to Paris.
Have you ever dreamed of working at NASA? Or maybe you're curious about what NASA even looks like.
If you're not an astrophysicist (who is?) but still interested in learning more, now's your chance to become a space explorer. With NASA's virtual tour, you can explore their base and learn more about the amazing work they do there.
As Ariana Grande famously put it, imma need space.
If you're an animal lover, this is the experience for you. The San Diego Zoo has a variety of live cams of all your favourite animals so you can check in on what they're up to! Watch as pandas eat bamboo or as penguins group together in real-time. Trust me, it's seriously the coolest thing.
If you want some serious laughs, I recommend the ape live cam–the quirky apes will make you go bananas.
This one isn't for the squeamish.
Canada's Wonderland is home to some of the most exhilarating rides in all of North America and this quarantine shouldn't stop you from checking them out. All you have to do is load up Canada's Wonderland Youtube channel and choose your desired ride, including the new Yukon Striker! If heights aren't your thing, you might want to pass on this one.
Fasten your seatbelts.
Don't let your grades take a plunge this semester, instead, take a dive under the sea at some of the NOAA marine sanctuaries. Enjoy the diversity of plants and sea life that the world has to offer, all while staying dry and cozy in bed. Even the least-experienced swimmers will be able to enjoy life as a diver.
Take a break from homeschool and give a school of fish a visit.
---
For when you need a break from the screen, check out these tips for staying active at home.
Follow IGNITE on Facebook, Instagram, and Twitter for all things student life.