Cancel that UberEats.
Enough with the frozen pizzas and Kraft Dinner. It's time to make something with substance. Something that won't leave your taste buds disappointed.
In anticipation of Antoni from Queer Eye's chat at IGNITE Real Talks, we are giving you five delicious recipes from his new cookbook, Antoni in the Kitchen. Each recipe is for a different course so if you're feeling particularly ambitious, you can make a five-course meal for your loved ones. But before you start cooking, don't forget to grab your tickets to IGNITE Real Talks on Nov. 19.
If you're ready to ditch that #CollegeDiet life, here are 5 recipes that are totally Antoni-approved:
1. Cheesy Lemon-Rosemary Artichoke Dip
Ingredients
3 (170-mL) jars marinated artichokes, drained, coarsely chopped or quartered if whole
1 (226 g) package cream cheese, softened
170 g Gruyère, grated (1 1/2 cups)
113 g aged sharp white cheddar (such as Cabot clothbound), grated (1 cup)
1 cup (227 g) full-fat sour cream
2 tbsp (30 mL) fresh lemon juice
2 tsp finely chopped fresh rosemary
1/4 tsp freshly ground black pepper
Toasted baguette slices, crudités, and/or your favourite crackers or chips for serving
Steps
Heat the oven to 200°C (400°F), with a rack in the middle.
Combine all the dip ingredients in a large bowl and stir until smooth. Transfer to a 20-cm (8-inch) square baking dish, an 18- to 20-cm (7- to 8-inch) ovenproof skillet, or a 1.9-litre gratin dish.
Bake until the dip is bubbly and light golden brown on top, 22 to 25 minutes. Let cool for 7 to 10 minutes before serving. (I've burned my mouth more times than I care to admit.) Serve with toasted baguette slices, crudités, and/or crackers or chips.
2. Grapefruit Avocado Salad
Ingredients
1 tablespoon Dijon mustard
1/4 cup freshly squeezed lemon juice
1 1/2 teaspoons kosher salt
3/4 teaspoon freshly ground black pepper
1/2 cup good olive oil
4 ripe Hass avocados
2 large red grapefruits
Steps
Place the mustard, lemon juice, salt, and pepper in a small bowl. Slowly whisk in the olive oil until the vinaigrette is emulsified.
Before serving, cut the avocados in 1/2, remove the seeds, and carefully peel off the skin. Cut each half into 4 thick slices. Toss the avocado slices in the vinaigrette to prevent them from turning brown. Use a large, sharp knife to slice the peel off the grapefruits (be sure to remove all the white pith), then cut between the membranes to release the grapefruit segments.
Arrange the avocado slices around the edge of a large platter. Arrange the grapefruit segments in the center. Spoon the vinaigrette on top, sprinkle with salt and pepper, and serve.
3. Zurek Soup
Ingredients
Zakwas
1/2 cup rye flour
2 garlic cloves, finely chopped
1 bay leaf
Soup
1/2 pound thick-cut smoked bacon, cut crosswise into 1/4-inch-wide pieces
2 medium onions, coarsely chopped
2 1/2 pounds kielbasa or bratwurst, cut into 1/2-inch-thick slices
1 large carrot, halved lengthwise and cut into 3/4-inch-thick slices
1 large parsnip, quartered lengthwise and cut into 3/4-inch-thick slices
1 medium celery root, peeled and cut into 1/2-inch cubes
8 sprigs fresh flat-leaf parsley, plus finely chopped fresh parsley for garnish
3 fresh or dried bay leaves
2 teaspoons dried marjoram
1/8 teaspoon ground allspice
Kosher salt
1/4 cup drained prepared horseradish
1/4 teaspoon freshly ground white pepper
Sour cream, for garnish
3 or 4 hard-boiled eggs, peeled and halved, for garnish
2 cups coarsely chopped dill pickles (about 4 medium), for garnish
Chopped fresh dill, for garnish
Steps
For the zakwas: Pour 2 cups boiling water into a heatproof 1-quart jar or glass bowl. Let cool to warm.
Stir the flour, garlic, and bay leaf into the warm water. Tightly cover/seal the jar or bowl with plastic wrap (use a rubber band or two to hold the wrap tightly) and let sit in a warm, dark place (like a cupboard) for 4 to 5 days; "burp" the mixture every 2 days by removing the plastic wrap to let the air out, then resealing it again (this will prevent a little culinary explosion). Alternatively, you can seal the jar or bowl with cheesecloth (more breathable), held tightly with a rubber band, and you will not have to burp the mixture.
The zakwas is ready when it has a pungent fragrance, a solid, spongy deposit on top, and a light brown-gray liquid at the bottom. Scrape off any green or mouldy bits that appear on the top (a healthy sign of the fermentation process and not dangerous!), and remove and discard the bay leaf. Strain the zakwas through a sieve into a bowl; discard the solids. You'll have about 1½ cups liquid. Use however much you have; the exact amount is not important.
Soup
For the soup: In a large Dutch oven or other wide heavy pot, cook the bacon over medium-high heat, stirring occasionally, until golden and crisp, 5 to 7 minutes. Using a slotted spoon, transfer to a medium bowl. Add the onions to the pot and cook, stirring occasionally, until tender and lightly golden, 12 to 14 minutes. Transfer to the bowl with the bacon. Add the kielbasa or bratwurst to the pot and cook, stirring occasionally, until golden brown, 12 to 15 minutes. Transfer to the onion mixture. Pour off and discard the fat from the pot.
Add the carrot, parsnip, celery root, parsley sprigs, bay leaves, marjoram, allspice, 1 teaspoon salt, and 7 cups water to the pot, bring to a simmer, and cook until the vegetables are almost tender but with a little crunch, 12 to 15 minutes.
Add the zakwas, horseradish, and onion mixture to the pot, return the soup to a simmer and cook until the vegetables are tender and the broth is flavorful, 10 to 12 minutes. Stir in the white pepper. Season to taste with salt. Remove and discard the parsley sprigs and bay leaves.
Spoon the soup into bowls. Top each bowl with a big dollop of sour cream, a hard-boiled egg half, the chopped pickles, and some dill or parsley, and serve.
4. Moroccan Lamb Bolognese
Ingredients
Kosher salt
1 pound long pasta, such as tagliatelle, fettuccine, linguine, or spaghetti
3/4 cup full-fat plain Greek yogurt
1 tablespoon unsalted butter
2 1/2 cups Moroccan Lamb Bolognese Sauce, warmed (see below)
Coarsely chopped fresh cilantro or mint
Freshly grated Parmigiano-Reggiano for serving
Freshly ground black pepper
Steps
Bring a large pot of water to a boil and salt 'til it tastes like the ocean (taste it). Add the pasta and cook, stirring, until al dente.
Meanwhile, in a small bowl, stir together the yogurt and 1 to 2 tablespoons of the pasta cooking liquid to loosen it just a bit. Set aside.
Scoop out about 3/4 cup of the pasta cooking liquid and reserve. Drain the pasta and return it to the pot. Add the butter, Bolognese sauce, and a tablespoon or two of the pasta cooking liquid. Toss together to combine, adding more pasta cooking liquid by the spoonful if the pasta appears dry.
Transfer to serving bowls. Dollop with the yogurt and top with cilantro or mint, parm, and black pepper.
Sauce Ingredients
2 tablespoons extra-virgin olive oil
2 tablespoons unsalted butter
1/2 small onion, finely chopped (about 3/4 cup)
2 medium carrots, finely chopped
2 celery stalks, finely chopped
2 garlic cloves, finely chopped
1 1/2 pounds ground lamb
1 3/4 teaspoons ground cumin
1 1/4 teaspoons ground coriander
3/4 teaspoon red pepper flakes
1/2 teaspoon ground cinnamon
Kosher salt and freshly ground black pepper
3/4 cup whole milk
3/4 cup dry red wine
1 (28-ounce) can whole tomatoes, preferably San Marzano, with their juices
Steps
In a large Dutch oven or other wide heavy pot, heat the oil and butter over medium heat until the butter is melted and foamy. Add the onion, carrots, celery, and garlic and cook, stirring occasionally, until the onion is softened and translucent, 6 to 8 minutes. Add the lamb and cook, stirring frequently and breaking up the meat into bits with a wooden spoon, until cooked through, about 6 minutes.
Stir in the cumin, coriander, red pepper flakes, cinnamon, ¾ teaspoon salt, and a generous pinch of pepper and cook for 30 seconds. Stir in the milk. Bring to a simmer, then reduce the heat to medium-low and gently simmer until the sauce is thickened, 3 to 5 minutes. Add the wine and simmer until mostly evaporated, 8 to 10 minutes more.
Add the tomatoes and their juices, then reduce the heat to low. Break up the tomatoes into smaller pieces with a wooden spoon, then gently simmer, uncovered, stirring occasionally and adding water by ½ cupfuls if the sauce becomes dry, until the sauce is deeply flavorful, about 3 hours. Remove from the heat and adjust the seasoning to taste. Serve, or let cool before storing. (The sauce can be refrigerated for up to 3 days or frozen for up to 3 months. Thaw if frozen and gently reheat over low heat, stirring occasionally, and adding 2 to 4 tablespoons water as necessary before serving.)
5. Kansas City Coconut Sheet Cake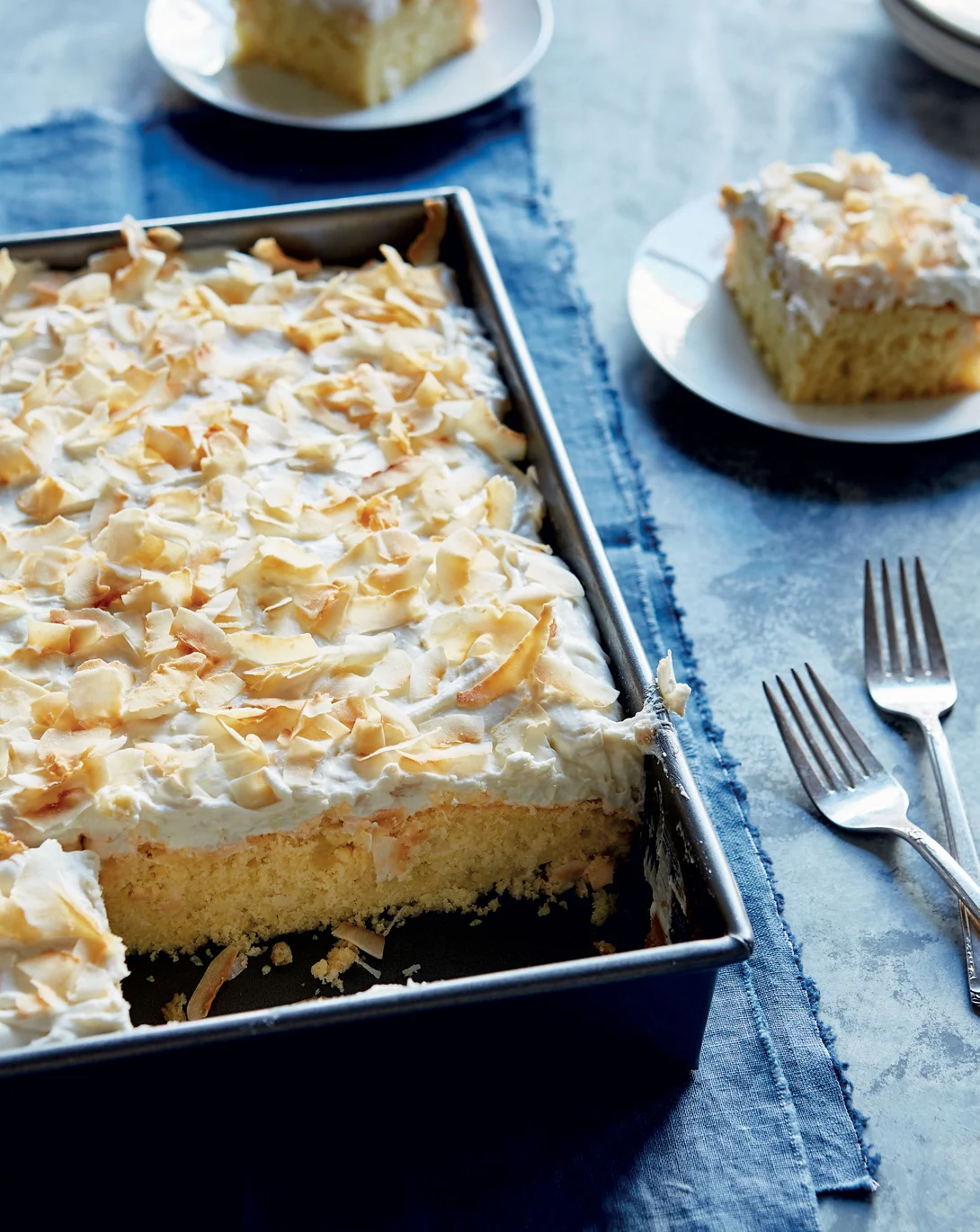 Ingredients
Cake
1/2 cup unrefined coconut oil, melted and cooled, plus more for greasing the pan
2 1/2 cups all-purpose flour
2 teaspoons baking powder
1/2 teaspoon kosher salt
1 cup full-fat coconut milk, well shaken before measuring
1/2 cup plain nonfat Greek yogurt
Finely grated zest of 1 large lemon (about 1 1/2 tablespoons)
1 tablespoon fresh lemon juice
1 teaspoon pure vanilla extract
1 1/2 cups granulated sugar8 tablespoons (1 stick) unsalted butter, softened
4 large eggs, at room temperature
1 cup sweetened shredded coconut
Coconut Whipped Cream Frosting
2 cups packaged unsweetened flaked coconut
1 (15-ounce) container part-skim ricotta (about 1 3/4 cups)
1/2 cup confectioners' sugar
2 cups heavy cream
1/2 teaspoon pure vanilla extract
Steps
Heat the oven to 350 degrees, with a rack in the middle. Grease a 9-x-13-inch baking pan with coconut oil.
In a medium bowl, whisk together the flour, baking powder, and salt. In a second medium bowl, whisk together the coconut milk, yogurt, lemon zest and juice, and vanilla.
With an electric mixer, beat the coconut oil, sugar, and butter in a large bowl on medium speed, scraping down the sides occasionally, until smooth, about 3 minutes. Add the eggs one at a time, beating well after each addition. Add the coconut milk mixture and beat until well combined, about 2 minutes (the mixture may appear curdled). Reduce the speed to low and add the flour mixture in two additions, mixing just to combine. Fold in the coconut with a rubber spatula, making sure to fully incorporate it.
Scrape the batter into the prepared pan and spread it evenly with the spatula. Bake until the cake is lightly golden on top and a cake tester inserted in the center comes out clean, 35 to 40 minutes, rotating the pan halfway through. Remove the cake from the oven and cool completely in the pan on a wire rack. (Leave the oven on.)
Spread the coconut in a single layer on a baking sheet and bake until golden and fragrant, 5 to 7 minutes. Let cool completely in the pan on a wire rack.
With an electric mixer, beat together the ricotta and confectioners' sugar in a large bowl on medium-high until the sugar is dissolved and the cheese is creamy, 3 to 5 minutes. Add the cream and vanilla and beat until soft peaks form about 3 minutes. Gently fold in 1 cup of the toasted coconut. Cover the frosting and chill until it sets a bit, at least 30 minutes, and up to 4 hours. Set the remaining coconut aside.
Spread the frosting over the top of the cake. Sprinkle with the reserved toasted coconut. Cut the cake into pieces and serve. The cake can be kept, covered and refrigerated, for up to 3 days.
---
Did this article make you hungry? Check out the IGNITE soup bar every Tuesday to Thursday from 11 a.m. to 2 p.m.
Follow IGNITE on Facebook, Instagram, and Twitter for all things student life.