For when your brain has too many tabs open.
As students, our lives often seem like a balancing act. Between school, work, self-care, and maintaining a social life, it's hard to keep up with everything amidst the chaos. Luckily, we live in a digital age with innovators who have formulated some killer apps to help us keep organized.
Keep up to date on projects, make time to see your pals, journal, and organize your notes with these five apps you need to get it together:
1. Calendly
Basic: free | Premium: $8 per month
If you've ever tried to make plans with your equally-ambitious and busy friends, you'll understand the pain of conflicting schedules. Calendly is an app designed to help streamline the scheduling process. Instead of repeating over and over what your school day looks like every time you want to head out to lunch, you can send your friends a link to your timetable and they can schedule themselves in—easy as pie!
2. Jour
Premium: $5 per month, 3 day free-trial
Need to vent but don't have the time to sit down with a journal to write? Jour is the app for you. Between addressing anxiety, helping calm the mind before bed, and reflecting on your day, Jour provides you with writing prompts as simple as "how was your day?" to start you off. Worried about putting your deepest darkest secrets on an app? Jour encrypts each entry and states it does not run ads or sell user data.
Unload your stress and get back to being the boss that you are!
3. ActiveInbox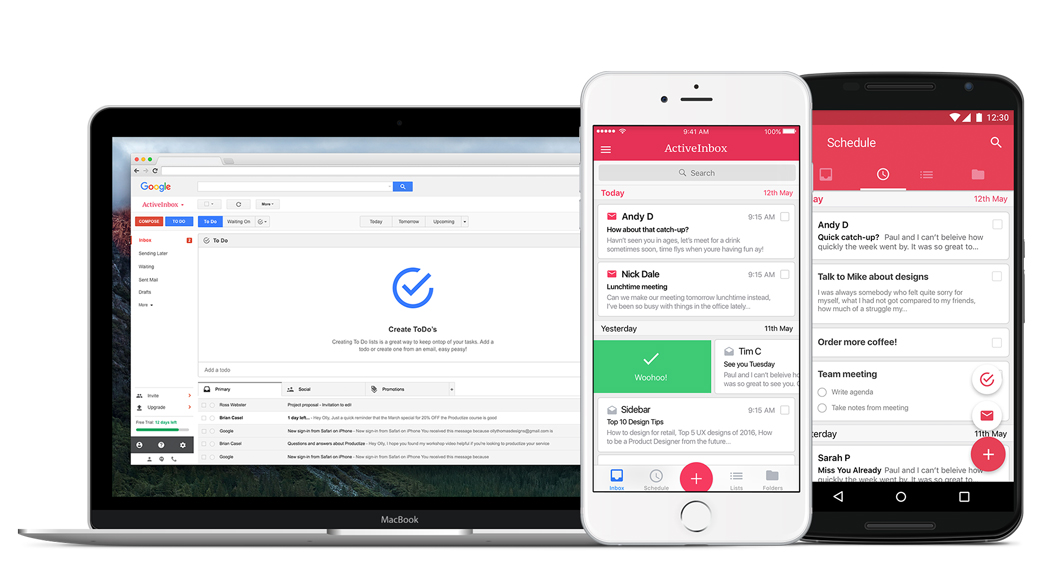 Personal: $4.16 per month
I am someone who is terrible at email. My inbox itself stresses me out. Between scheduling interviews in my calendar, responding to professors I've neglected, and navigating through scads of Bath and Body Works spam emails, I avoid my mail app like the plague. ActiveInbox helps ease the stress of email by turning your messages into active to-do lists. You can get that satisfying feeling of checking off your tasks with this app.
Never leave an email on 'read' again!
4. Evernote
Basic: free | Premium: $9.99 per month
$With all the information on the web and the number of slides in a lecture, taking notes can be overwhelming. Evernote is a must for any student; this app allows you to take notes from virtually any website, create to-do lists, search PDFs and documents for keywords and images, scan documents, record audio, and lastly, share all your amazing notes with your classmates!
Check out Evernote for your one-stop-shop for note organization.
5. Trello
Personal: free | Business class: $9.99 per month
Do you have big projects coming your way this semester? Trello is great for breaking down big tasks into bite-sized ones. Trello gives you the ability to colour-code your projects, create due dates, and add to-do lists under each task to hold yourself accountable. Working with others? You can share your projects with others on your team and assign them tasks. Use this app to keep yourself and your classmates on track!
Productivity is totally achievable. Whether it's finding time for friends, journaling or crushing a group project, everyone can use some extra time-management tools. These five apps will help you get started on crushing your to-do list.
---
Need some support organizing your taxes this year? Check out the IGNITE Tax Clinic to file for free.
Follow IGNITE on Facebook, Instagram, and Twitter for all things student life.