"To be happy, it first takes being comfortable being in your own shoes. The rest can work up from there."
For IGNITE's Real Talks for International Women's Day we're bringing in actress, philanthropist, and businesswoman Sophia Bush. She's best known for her role as Brooke Davis on the TV show One Tree Hill, that ran for an impressive nine seasons. Fans fell in love with the incredibly talented, fiercely outspoken, and risk-taking character Brooke Davis, only to discover these traits rang true for Sophia in real life as well.
As a staunch supporter of women's rights, LGBTQ+ rights, environmental concerns, and mental health issues, Sophia continues to raise awareness for intiatives that are important to her. On March 8th, join us for an inspiring talk with Sophia Bush and Iskra Lawrence at Humber North's student centre starting at 12 p.m.
Not convinced yet? Here are 4 reasons to see Sophia at our upcoming Real Talks.
1. She's incredibility talented
She isn't just an incredibly talented actress on shows like One Tree Hill and Chicago PD, she's also got a strong head for business. Sophia invests in start-up companies that promote innovation and efficiency in people's lives like Omni and Mark43.
Sophia has a strong passion for interior design, and even has an Instagram devoted to her design inspirations. She hopes to expand her passion and embark on larger design projects in the future.

2. She's fiercely outspoken
"If you really hate my opinion about wanting the environment to stay clean, wanting rivers to stay free of toxic coal waste, wanting children to have heart surgery if they need it—bro, don't watch my show. I don't care."
Somewhere in the middle of the social media mayhem, you'll find people like Sophia Bush who use platforms like Twitter and Instagram to engage in important conversations with their followers. Sophia never shies away from expressing her opinions. With a combined 4.5 million followers on Twitter and Instagram, she raises awareness on topics that are important to her like the #MeToo movement and criticizing the Trump administration.
Protesting is your right. Sacred in America. Don't give them a reason to denounce your protests. Stay the course. Keep it clean. Be safe.

— Sophia Bush (@SophiaBush) November 10, 2016
3. She doesn't just talk the talk, she walks the walk
Sophia puts her money where her mouth is when it comes to supporting causes she believes in. Not only does she voice her opinions on important topics, she shows up when it matters. In January, Sophia walked in the 2018 Los Angeles Women's March and reminded us why it's important to stand up for what we believe in.
4. She's not afraid to take risks
Sophia played detective Erin Lindsay for nearly four years on Chicago PD, so it came to a surprise to many when she decided to leave in 2017. Speaking on Refinery 29's "UnStyled" podcast, Sophia explained her decision to leave to her bosses. "I said, 'Here's where we are. Here's everything you're aware of. Here's how I'm coming to you today. If something really drastic doesn't change, I'm leaving at the end of the year'…"
When she thought things needed to change, she wasn't afraid to voice her opinions to her to bosses. She stayed true to her word and followed through with her ultimatum, which deserves immense respect and admiration.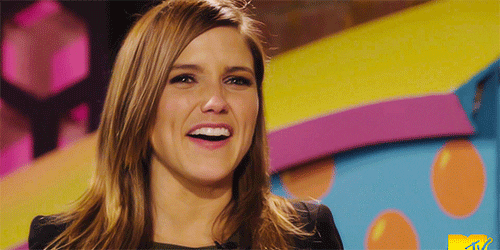 ---
Come out and celebrate International Women's Day at IGNITE's Real Talks on Thursday, Mar. 8 at 12 p.m. at the North Campus's Student Centre with Sophia Bush and Iskra Lawrence. Admission is free, but spots are very limited and are available on a first-come, first-serve basis. You can pre-register here.
See you there!