Get Macklemore for less.
In case you missed it, thrifting has been having a moment. From Macklemore's inescapable 2012 hit to the routine pop-up of YouTube thrift hauls and Instagram boutiques, it seems more and more people are showing love to pre-loved clothing.
For students, it's a win. When everyone asks where your jacket's from, you can smile wide and say, "it's second hand." Their jaws drop, and suddenly, you're a hip enigmatic cool kid who can craft the perfect outfit with ease. You're saving money and the planet, and you look great doing it. If this seems like a far-off reality, then it's time to start shopping like a pro.
Read on for 10 thrifting tips to be the mysteriously stylish student you always knew you were: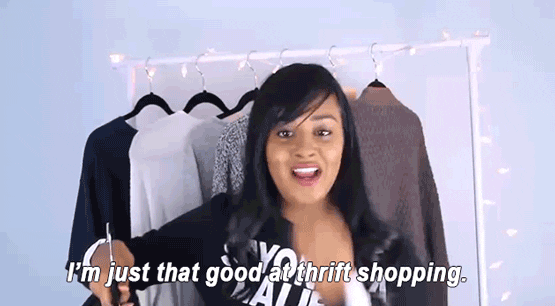 Why thrift?
There are so many benefits to shopping second-hand:
Get more for less money
Lower the demand for fast fashion
Leave less of an environmental impact
Find unique and creative pieces
1. Make a day out of it
You're going to have much more luck finding that internship outfit if you make time for it. Thrifting is never guaranteed, and under a time crunch, it's next to impossible. Scheduling a time to shop lets you browse with ease.
2. Explore new spots
A little-known hack is to avoid thrifting in the trendier, more expensive areas.
Contrary to finding more luxury items, swanky 'hoods have far more traffic—meaning inventory is picked apart faster. On the flip side, exploring new neighbourhoods exposes you to different demographics, which can lead to interesting pieces you likely wouldn't find anywhere else.
Of course, this goes without saying, but when shopping please avoid cultural appropriation.
3. Go curated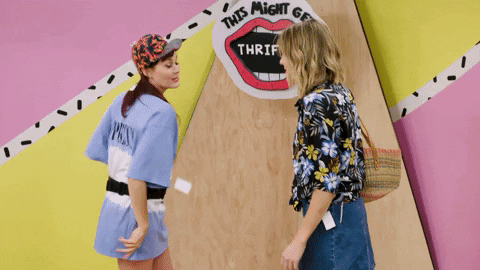 If the thought of sorting through racks of clothes gives you a headache, try shopping at independent boutiques. Small stores make it easier to sift through racks for the best pieces.
Toronto is bursting with independent second-hand shops and curators. Do note, however, that the prices are much higher at these locations.
4. Go to a swap or event
In Toronto, there are plenty of social opportunities to get your thrift on.
For the best of the independent scene, the Toronto Vintage Crawl and Vintage Clothing Show happen twice a year. Last year, one of our writers scoped out the Vintage Crawl, and she did not disappoint. Keep your eyes peeled for smaller-scale swaps and pop-ups on Facebook and Eventbrite.
5. Dress for the occasion
Whenever I go thrift shopping, I dress for the occasion. This means wearing comfortable clothing to slip in and out of once you hit the changeroom.
Need help dressing to impress? Register for IGNITE's Career Boutique on March 2 and 3 for an opportunity to get FREE LinkedIn headshots, rapid resume reviews, mock interviews and so much more.
6. Ask the big questions
When thrifting, keep your existing wardrobe and style in mind. If you hate red, then maybe that bedazzled red tank top isn't a good idea. Likewise, if you never wear dress pants, then the likelihood of you not wearing dress pants in the future is high.
Finally, before you slap down your credit card, ask yourself how you plan to style your new pieces. Do you have anything similar at home? Are they in good condition? How do they fit? Keeping these things in mind helps you flag issues before making a regrettable purchase.
7. Try before you buy

We've all been guilty of buying something without trying it on, only to be disappointed when we get home. To avoid a painstaking in-store exchange, try everything on before you buy it.
This ensures the garment actually fits, while letting you envision how you would style it with your closet. Not to mention, sizing guidelines have changed over time.
8. Check the condition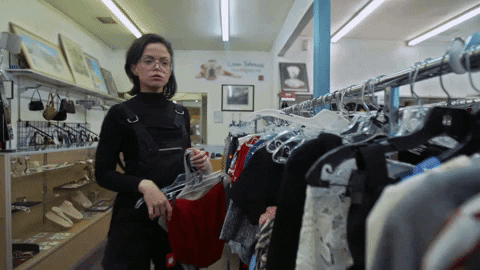 A final check is a must! While most independent shops are careful with double-checking the condition of their pieces, larger chains like Value Village have more inventory to manage. This makes it more likely for clothes with rips, holes, and stains to sneak in.
Bonus tip: Know your logos and your fabrics
Not all fabrics are the same. Knowing your fabrics can help you decide between a wrinkled disaster and a timeless classic. Similarly, most long-standing brands usually have had a logo rebrand. If you know the brand history, you can better determine how new (or valuable) the garment is.
9. To buy or DIY
Know the level of effort you're actually willing to put in to make the garment wearable. Are you really going to take those vintage Levis to get tailored? How about the strapless dress that's a little too big? If you can't commit to making renovations, then you might as well skip the purchase altogether.
10. Go online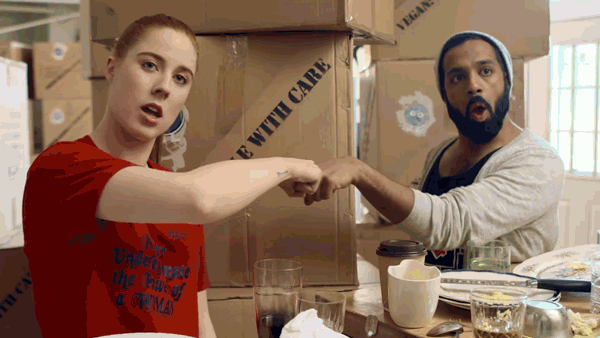 If you're bummed about not being close to any good second-hand stores, rejoice for online shopping. Apps like Depot, Bunz, and Carousell are great for finding pre-loved goods near you. And don't bash Craigslist, Facebook Marketplace, and Kijiji either—half my apartment is furnished as a result of meticulous Facebook bargaining.
---
Let's shop! Submit your essay or video for IGNITE's Dress For Success contest to jazz up your wardrobe.
Follow IGNITE on Facebook, Instagram, and Twitter for all things student life.