The Dos and Dont's of Interview Attire
Land the job and look good doing it!
Job interviews are tough for most people, and trying to figure out what to wear can add a lot of unnecessary stress. It's important to remember that what is appropriate to wear really depends on the job you're interviewing for.
If the dress code is formal, you'll want to stick with the basics of interview fashion etiquette (suits, dress shirts, dress pants). But if the place is more laid back, you'll able to have a little more freedom with what wear. Not sure if the place is formal or casual? Stick to a more professional outfit and adjust once you're hired.
Need to revamp your wardrobe before heading out into the workforce? Check out IGNITE's Dress for Success contest for a chance to win a $1,000 shopping spree!
Transitioning from sweats to dress pants can be hard so we've got a couple of style dos and don'ts for on what to wear to your interview:
1. Do wear a blazer/cardigan
Blazers and cardigans can do wonders to dress up any outfit and make you look more professional. If you're going for a formal interview, try wearing a blazer with a button-up shirt and some nice dress pants. Cardigans can do the same job for a more casual interview. Make sure you wear colours that complement each other!
A great choice is the pink Zara blazer:
Or a classic gray choice from Zara:
2. Do wear dress pants
Dress pants are the staple of any interview outfit, simply because they look professional and classy. You don't have to wear the classic straight fit dress-pants, you could go for a tighter or even helmed style. Add your own flair to give your outfit a boost of personality!
Check out these classic gray pants from Zara:
Or check out these classic flared black pants:
3. Do choose simple accessories
Wearing accessories can add character to your outfit, but make sure not to overdo it. You don't want to wear accessories that will distract your potential employer, instead, keep it simple.  Some studded earrings, a simple bracelet, necklace, or a classic watch are great choices for accessories.
4. Do wear closed-toe shoes
An outfit isn't complete without a good pair of shoes to go with it. For an interview outfit, it's always a good idea to choose closed-toe, dress shoes or heels. Heels shouldn't be more than a few inches tall, and not too thin (you want to be able to walk confidently into your job interview!). Browns, blacks, and grays are always good colour choices for shoes.
5. Do make sure to iron your clothes
So you showered, got dressed, did your hair, and you're ready to head out the door. Not so fast – are your clothes wrinkle-free? I know it may sound tedious, but it really makes the difference between looking sloppy and looking like a star! So make sure your clothes are looking crisp and fresh before you head out the door.
6. Do smile!
The perfect interview outfit consists of a few things: a good pair of dress shoes, dress pants, a nice blazer or cardigan, and most importantly a nice smile! Remember at the end of the day, your employer wants to get to know you. Having a kind demeanour, and remembering to smile is the most important accessory you could ever have!
Now that we've covered the dos of interview fashion etiquette, it's time to get down to the interview fashion faux pas…
7. Don't wear sneakers
Wearing sneakers to a job interview isn't exactly in-line with interview attire unless you're interviewing to be an athlete. Why? Employers want to see that you are able to be professional, poised, and polished. Wearing sneakers can come across as being unprepared. Instead, try a simple, dressier type of shoe like loafers or dress shoes.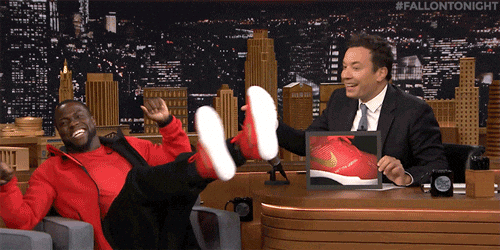 8. Don't wear clothes with chaotic patterns
Unless you're interview calls for an eccentric wardrobe, it's best to stay away from pairing loud colours or chaotic patterns. Your style may be riveting, but for an interview sometimes its best to stick to the basics. Remember… simplicity is key!
9. Don't wear jeans
If you want to come across as professional, that means dressing the part too. It's okay to wear jeans to school or when you're going out with friends, but the workplace is a different environment. You want to show your employer that you're serious about the job, and jeans are too casual for that. You can still be comfortable, and stylish by trading in your jeans for a dressier pair of pants.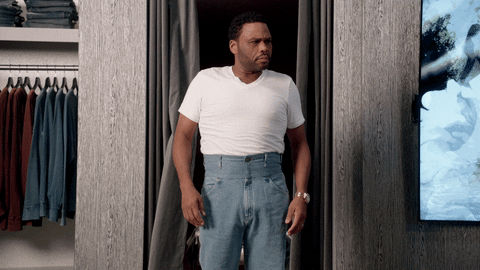 10. Don't forget what you chose to wear depends on what job you're interviewing for
Choosing what is appropriate to wear really depends on the job you're interviewing for. Try doing a bit of research on the company beforehand, to get a sense of what the work environment is like. It's always a good idea to err on the side of caution especially for your first interview, so these tips are more of a guideline than anything. Once you're more comfortable with job interviews, you'll be able to gauge what kind of attire is appropriate. Since you only have one chance to make a first impression, you definitely want to make it count!
---
Hopefully, with these style tips, you'll be able to land the job you want. To ease some of your worry of finding an interview outfit, enter our IGNITE's Dress for Success contest from March 19 – April 9 for a chance to win a $1,000 Cadillac Fairview gift card!
Need more of a confidence boost for your job prospects? Check out our 7 tips for a stand-out-resume.