Why Comic Expo isn't just for comic book fans
Grab your mallets because it's time to smash some Comic Expo stereotypes.
Chances are when you hear 'Comic Expo', you're probably picturing a large gathering of fans drooling over their favourite comic books and glamming it up in outrageously intricate costumes.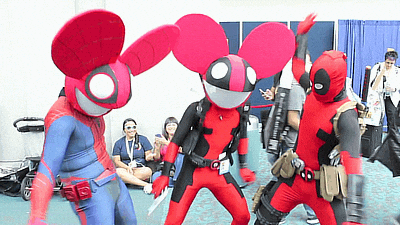 Okay, yes all that might be part of it, but there's so much more!
A little background on comic conventions:
The most notable Comic Con happens every year in San Diego and draws hundreds of thousands of attendees from all around the world, including some very famous celebrity guests (Daniel Radcliffe, Ryan Reynolds, and Bryan Cranston just to name a few). But in its very first year, the San Diego Comic Con only had an attendance of a few hundred.
Fast forward a few decades later, and Comic Con has become a place for fans of all pop culture TV shows, movies, and books to share in their interests. The Big Bang Theory, Stranger Things, The Simpsons, Rick and Morty, and Game of Thrones have all made appearances at the convention.
What about IGNITE's Comic Expo?
IGNITE's Comic Expo is no different. We have activities and speakers for all students to enjoy, so if you're interested in finding out more about it, keep reading…
Winter is coming early this year at Humber with the appearance of guest of honour Esmé Bianco, otherwise known as Ros from Game of Thrones. Yes, you read that right. Game of Thrones. Told you Comic Expo wasn't just for comic book fans! Meet the star in person and ask her any burning questions you might have about the show.
For students at the North campus, we've got a special contest for you. Create the most innovative, ambitious, and intricate costume and you could win $250 for 1st place, Raptors tickets for 2nd place, and $50 for 3rd place! For more information about the Cosplay contest at the North campus, check out our events page.
Don't forget to meet our comic book illustrators from Stadium Comics, and take advantage of the chance to talk to people in the industry. If you're interested in graphic design, visual art, or writing, Comic Expo has tons of artists and writers you can network with!
So get your geek on and get ready for the convention of a lifetime!
Comic Expo 2017 is going to be one event you do not want to miss.
Tuesday, Oct. 17  North | Wednesday, Oct. 18 Lakeshore