In Our Headphones: Vol. 6
Festive af.
With a new week, comes a new playlist. It's time to listen to In Our Headphones: Vol. 6!
Every Monday we add 10 new songs to our Spotify playlist. The playlist will be curated from song suggestions we've received from students through Instagram (with a few IGNITE staff picks sprinkled in).
With the holiday season in full swing, we asked students to send us their favourite holiday songs. From old classics to modern-day hits, we definitely were not disappointed.
Here are the top 10 tracks for this week's playlist:
Scroll down to listen to the playlist on Spotify!
All I Want For Christmas Is You

Mariah Carey

(submitted by @__avong)
This track is an absolute classic. If you ask me, no Christmas playlist would be complete without it. Resistance is futile with this department store hit. Try as you might, it's hard not to sing along as those unmistakable bells chime in. Originally released in 1994, the song became so popular, Carey even did a remix with Justin Bieber in 2011.
Santa Tell Me

Ariana Grande

(submitted by @valeriekarina_)
Although Ariana's been breaking records for her latest music, we can't forget her 2014 hit, "Santa Tell Me", that gave us all the holiday feels. The track has a great mix of mellow vocals mixed over cheery background beats. This holiday-inspired love song is all about having that special someone stick around even after the holidays are over. Thank u, maybe next year.
What Christmas Means To Me

Pentatonix

(submitted by @v_melody)
The a capella group is back again this year with their latest album, Christmas Is Here! — a 12-song mix of old and soon-to-be holiday hits. "What Christmas Means To Me" is the infectious opening track. If you're just as excited about the holidays as Pentatonix, this is sure to be your new go-to Christmas jam.
Christmas Wrapping

The Waitresses

(submitted by @kez_14)
This is arguably the biggest holiday track of the last 50 years. The original 1982 tune by The Waitresses has been covered by The Spice Girls, Kylie Minogue, and the cast of Glee. It has a fun, upbeat, synth sound paired with a jazzy saxophone beat. Although the song broke apart the band after its release, you can't deny it's a holiday classic that's sure to stick around.
Jingle Bell Rock

Bobby Helms

(submitted by @_yung.kate_)
It's hard not to listen to this song and think about that one scene from Mean Girls. It's a short one, coming in at just 2 minutes, but it's another classic that has stood the test of the time. Since its release, it's been covered by multiple artists, but Bobby Helms' is the best-known version.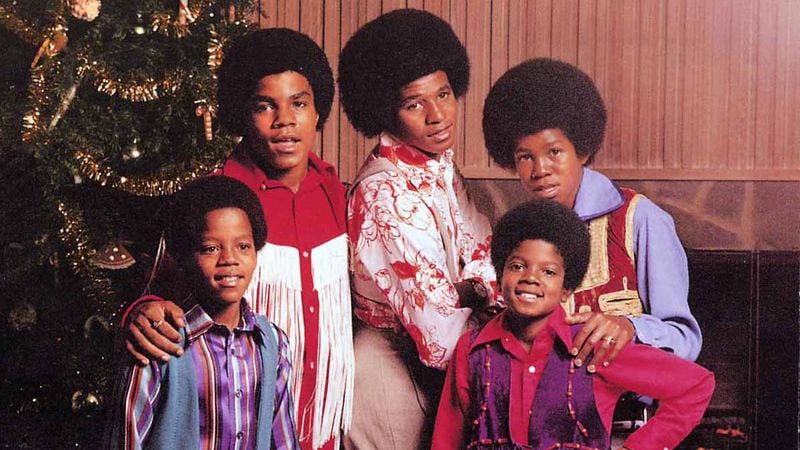 Santa Claus Is Coming To Town

The Jackson 5

(submitted by @markzweetie)
Perhaps the most well-known version of Frank Sinatra's original track, "Santa Claus Is Coming To Town", is the Jackson 5 cover. Of course, we did get a few requests for the Hilary Duff rendition, which deserves a mention too. Released in 1970, the Motown group's album was the top-selling album of the year, selling over 3.5 million copies globally. These days, it continues to be a hot radio song during the holiday season—and for good reason.
Mistletoe

Justin Bieber

(submitted by @jina_aj)
It's hard not to mention this one in a Christmas playlist. Like it or not, it's one of those songs you just cannot escape this time of year. Gentle acoustic strumming is layered with a young Bieber's voice to create a cozy holiday track. The song has been compared to the sounds of Jason Mraz and Jack Johnson with added bells to give it that extra holiday flair.
Driving Home for Christmas

Chris Rea

(submitted by @peterbussmann96 and @maya.n.marcus)
You may be fond of this UK holiday track, but you might not know its inspiration. The story starts after a snowstorm struck Rea on a drive home to London from Middlesborough. While his wife navigated the blustery roads, he began singing the song's future chorus to pass the time. Between traffic lights, he'd scribble down lyrics. Years later, he came back to them and decided to move forward with the song. And it's been a hit ever since.
The Christmas Song

Nat King Cole

(submitted by @iblibs)
Hands up if you know every word to this song and aren't afraid to admit it. This sentimental 60's favourite is a smooth holiday track that's sure to put you in the Christmas spirit. The iconic vocals and instrumental made this an unforgettable classic that has been a radio hit for decades. It's the perfect tune for sitting by the fire with a warm cup of tea or hot chocolate. If you ask me, it's just one of those songs that puts the "merry" in Merry Christmas.
Feliz Navidad

José Feliciano

(submitted by @

palyoungakyi

)
Our final holiday track is sure to leave you feeling oh, so festive. "Feliz Navidad" has been covered by a handful of other artists including Walk Off The Earth, Celine Dion, and Gwen Stefani. The 1970 original features sounds of acoustic guitar and Puerto Rican cuatro. It has a simple, upbeat Spanish chorus blended with English lyrics. Since its release, it has continued to be one of top Christmas songs around the world.
New to Spotify?
Spotify is FREE to use, so sign up now! You can listen in your web browser or download the app on your device. The free version has ads, so if you don't want to deal with that then upgrade to a Spotify Premium account. Students get 50% off, so it only costs $5 a month!
---
Need more music? Check back soon for the next edition of In Our Headphones: Vol. 7.
Follow IGNITE on Facebook, Instagram, Twitter, and Snapchat for all things student life.