5 reasons you need to see Hasan Minhaj at Real Talks
"You can be extremely successful and also incredibly kind. Those aren't mutually exclusive concepts." – Hasan Minhaj
Fiercely himself and proud of his failures, Hasan Minhaj is an extraordinary example of success despite facing many setbacks. From discrimination to sweeping the nation, the actor, writer, and comedian is dominating the comedy world — and he's just getting started!
On April 12th, get ready to laugh, cry, and feel inspired as Hasan Minaj takes the North Student Centre stage for IGNITE Real Talks. His presentation starts at 12 p.m. and will be followed by a Q & A session and Meet & Greet.
Defying stereotypes and staying resilient are a few of the many things we love about him. Here are 5 more reasons to get hyped about Hasan:
1. He was the first Muslim to host a Whitehouse Correspondent Dinner
In April 2017, he was invited to be a keynote speaker for the annual Whitehouse Correspondent Dinner and of course, he nailed it. In addition to the traditional roasting of Washington D.C., he also discussed current affairs, mainstream media, and all things presidential.
Between making jabs at Donald Trump's absence and roasting the American administration, Minhaj also had an important message to deliver. "Free speech is the foundation of an open and liberal democracy," he declared proudly to the room of dignified journalists. His advocacy and acknowledgement of practicing free speech and honesty in journalism was a powerful addition to the presentation.
Did we mention he got a standing ovation?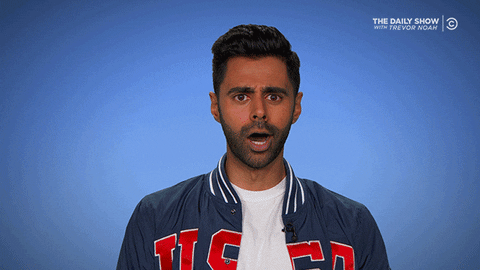 2. He's seriously hilarious
From poking fun at Indian culture to interviews with Justin Trudeau, Hasan knows how to effortlessly make us laugh — but it didn't always come easy!
Growing up in the 1990's, a golden age for TV comedy, Hasan and his sister were not allowed cable in the house. Without access to channels such as Comedy Central and HBO, Hasan felt left out, but that clearly hasn't held him back.
3. He's a first-generation success story. 
Although many first-generation immigrants struggle to make the American Dream a reality, Hasan has shown us it's possible. Growing up with his father in Davis, California, he was the only Indian-American in his elementary school. His father also witnessed racism in his workplace, creating an interesting household dynamic.
The two had to stick together and navigate their way through American society as they awaited the arrival of Hasan's mother and sister 8 years later.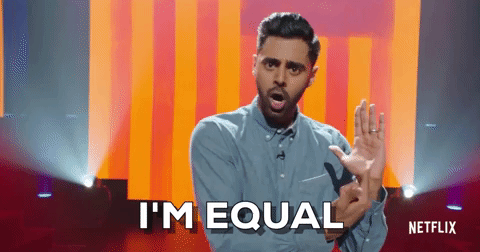 4. He's intelligent
Aside from taking AP classes throughout high school, he majored in political science at the University of California. He even kicked off his comedy career in his sophomore year, driving between San Francisco and Sacramento to get as much experience possible.
In an interview with Vulture, he shared his love of learning and his fondness for Harper Lee's novel, To Kill a Mockingbird. "Litigation, being in court and standing up for somebody, I remember thinking that was really cool," he said.
5. He turns failures into successes 
In his Netflix comedy series, Homecoming King, Hasan revisits notable moments growing up that pushed him to where he is today. From a prom date gone wrong to family emergencies, he has encountered countless setbacks. Like many of us, Hasan felt uncomfortable expressing himself around others. Being the only Indian-American kid in his class had its difficulties, but in the end, it brought him to where he is today and he's proud of it.
---
See Hasan hit the stage on April 12th at 12 p.m. at the North campus Student Centre. His half-hour presentation will be followed by a 30-minute Q & A session and a Meet & Greet.
For more IGNITE Real Talks, check out our interviews with Iskra Lawrence, Sophia Bush, and Charlamagne tha God.
Keep up with all things IGNITE by following us on Facebook, Instagram, Twitter, and Snapchat.