IGNITE Real Talks: Serge Ibaka
Saturday, Jan. 11th, 2020
Doors: 6:30 pm | Show: 8:00 pm
A/B Auditorium | Lakeshore Campus
$5 Humber/UofGH Students | $15 Guests
NBA champ Serge Ibaka is taking a detour from the basketball court and bringing his passion for fashion to the Lakeshore Auditorium for our next IGNITE Real Talks on January 11.
As the first-ever NBA player from the Republic of Congo, Serge Ibaka is best known as the power forward for the Toronto Raptors, helping them win the 2019 NBA Championship. Although he is a dominant force on the court, Serge's success doesn't stop there.
Fans may know him as MaFuzzy Chef because of his YouTube channel – followed by over 230,000 people-which features his popular food series How Hungry Are You? and his fashion-focused series, AVEC CLASSE. Serge is also the founder of the Serge Ibaka Foundation, a non-profit created to focus on health and education for the Republic of Congo and the Democratic Republic of Congo.
That's not all, Serge has also produced two documentaries. The first being Son of the Congo, which tells his story of escaping poverty and violence in Congo to become an NBA superstar. Anything is Possible, which premiered in Dec. 2019, followed Serge as he brought the Larry O'Brien trophy home to the Congo.
Basketball, fashion, food, and philanthropy – what more could you ask for? Come to the Lakeshore Auditorium for a discussion focused on persistence, chasing opportunities, and career growth.
Is there something you have always wanted to ask Serge? Bring your question for the audience Q&A!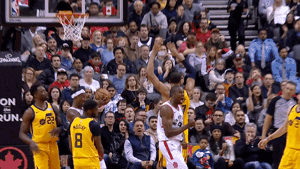 Important details:
The event will take place on Saturday, Jan.11, at the Lakeshore Auditorium (A/B Auditorium) starting at 8:00 p.m. with doors opening at 6:30 p.m.
Please note that seating is limited and will be first-come, first-served. Once seating is full, there will only be standing room available.
Students are allowed ONE non-Humber/GH guest. Guests must also have a ticket. Guest sign-in policy in effect. Guests must enter the event with a Humber/Guelph-Humber student.
Students must present their Humber/Guelph-Humber student ID OR class timetable and photo ID for admission. Each guest must present their own pre-purchased ticket and photo ID.
The first 50 people through the doors will get a photo op with Serge himself after the event. Student and guest pictures will be taken together and not individually.
Accessibility:
The Lakeshore Auditorium is a wheelchair-accessible venue. For further accessibility requests or questions, please contact Marlon Peters, Event Coordinator, and we will do our best to accommodate your request.